HOME WITH JOY HELPS LIBERIA GLOBAL FOUNDATION
I got acquainted with Kemah Singer and got the opportunity to make an effort for her foundation and to support this very special lady. I'm teaching her to make bread, cake, pastry etc.
I met her last year. She is the founder of the Liberia Global Foundation. This foundation helps children in Liberia, who lost family, friends and their youth, because of the civil war that lasted 14 years. They also missed the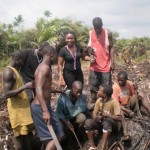 opportunity to go to school. Now they are older, it is difficult to pick up school again, because their classmates are 14 years younger. There are special schools for these children, but they are very expensive and the children need to make money for eating. Because they don't have education, it is very difficult to get a job and the girls, young women, often end up in prostitution, where there is a chance of getting soa's and HIV. Because of the poverty in this country, the criminal rate is very high.
Kemah Singer is from Liberia en lives and works in Holland. For years she worked hard to buy a large piece of land. She wants to build a school, specially for these children. To give them a chance for a better future. She doesn't get a lot of donations, that's a disadvantage of being a small foundation, but she is very happy with everything she gets.
Kemah Singer is a hard working woman, who has a dream. Her husband already went to Liberia. With the money she makes and the donations, he built, together with a number of children, a house, a pig stable where they already have pigs, the shop and a bakery. A large piece of the land is prepared to grow their own food. And one part is waiting for the school to be built.
For Kemah, things are not going fast enough. She cannot work any harder then she already does and she wants to start her school for the children.
So last year, she decided to take her spare hours and learn something extra to teach the people in Liberia to make extra money. She told Leontien Zethof, of soap studio "Uzepia" to teach her how to make soap. Leontien was touched by her story and enthusiastic to teach Kemah how to make soap.      On Kemah's list was also: how to make bread and pies with the products that are available in Liberia. And so Leontien asked me if I had time to teach Kemah how to bake. I said "yes" and started to read about her foundation. What a lot of worries and what a great dream does this lady have!                       And so, every Wednesday morning, I spend with her, teaching her how to make bread, pies, icing, etc.
I am very honored to help her to reach her goal and the dream of many Liberian children. She's not there yet, but she is a very powerful lady with a strong will who keeps fighting for her goal: a school where these children can be educated.  I gave her my time and so I could do something little for something so big.
Kemah sent her first box of soap to Liberia, to see if her idea has an opportunity to succeed…                        To be continued!
April 20: Totally excited Kemah has called me. They have taken the soap to the market to sell. Everything is sold, this is great news. This gives Kemah even more strenght to continue.
For more information about Liberia Global foundation, see: www.liberiaglobalfoundation.org
Joyce Amelsbeek-Verhoef, Home with Joy